DNN Creative Magazine - Issue 11 – An in-depth look at Headings and Styling (sIFR)
July Issue 11 Released
I am pleased to announce that issue 11 of DNN Creative Magazine has been released.

In this issue we take an in-depth look into the use of headings within DotNetNuke websites.

As an introduction to headings we have created a 40 page PDF which analyses various professional websites for the best practice use of headings and semantic code within a web page. We then offer suggestions on how you can implement these practices within your own DotNetNuke websites.

Following this we have created a detailed series of videos which explore sIFR (Scalable Inman Flash Replacement). sIFR allows you to style the titles within a DotNetNuke portal using any font that you require. This is a very powerful technique which can completely transform the look of your skin designs.

This issue comes complete with 7 videos and a 40 page PDF.


Tutorials:

Skinning


Semantic Code and Header Tags in DotNetNuke Skins
(40 page PDF)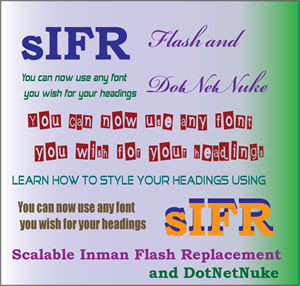 sIFR and DotNetNuke – Video Tutorial
(7 videos – 54mins)

Watch the introduction video
(2.9MB)

Previous issues:

Issue 11 - An in-depth look at Headings and Styling
Issue 10 - The DotNetNuke Skinning Toolkit
Issue 9 - Advanced Content Styling Techniques and CSS
Issue 8 - CSS for Styling and Layout in DotNetNuke
Issue 7 – Developing and enhancing skins
Issues 5 & 6 - Working with skins
Issue 4 – Installation Essentials
Issue 3 - The Really Simple Issue (RSS)
Issue 2 - A Picture Is Worth A Thousand Words
Issue 1 - The World At Your Fingertips

If you have any suggestions for the magazine, or requests, please do not hesitate to contact me.

Many thanks,


Lee Sykes
DNN Creative Magazine

View Issue 11

PS. Play PacMan to win a free subscription to DNN Creative Magazine or Snake to win a 8+ modules from Smart-Thinker.
PPS. View the RSS feeds page, keep up to date with the latest information, or display our articles on your website using the DNN Creative Magazine RSS Feeds .
Quick Links:
All Free Content
All Videos
All Interviews
All Articles



* * * * * * * * * *
DNN Creative Magazine provides DotNetNuke tutorials, articles, reviews all for the DotNetNuke web designer. An issue is released each month. Stats: 134 Videos & 5 MP3 Interviews
DotNetNuke Skinning Toolkit demonstrates all of the skin classes to help you quickly and easily create DotNetNuke skins.