Issue 16 – DotNetNuke Skin Troubleshooting, Vendors, Banners and Affiliates
December 2006
Welcome to the sixteenth issue of DNN Creative Magazine.
In this issue we cover troubleshooting techniques for skins. The techniques range
from how to quickly find the CSS class that styles an element within your skin,
through to live website CSS troubleshooting, in particular looking at Solpart menu
and skin design layouts.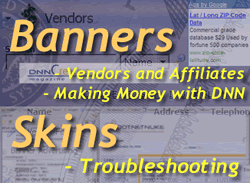 Instead of spending hours trying to fix a skin problem, you will be able to solve
your problems in a matter of minutes using these techniques.
From skinning we move on to ways of making money with your DotNetNuke website. We outline the various methods you can use with a default installation of DotNetNuke for making money with DotNetNuke.

Following this we have created a detailed tutorial exploring the Vendors section
of DotNetNuke 4.3 and 3.3. This covers working with Vendors, Banners and the Affiliates
sections of DotNetNuke, along with applying the techniques that we discussed in
the 'How to make money from DotNetNuke' tutorial.
This issue comes complete with 8 videos.
Tutorials:

View issue 16 to download all of the videos in one zip file
---
DNN Creative Magazine
provides
DotNetNuke
tutorials, articles, reviews all for the DotNetNuke web designer. An issue is released each month. Stats: 178 Videos & 5 MP3 Interviews
DotNetNuke Skinning Toolkit demonstrates all of the skin classes to help you quickly and easily create DotNetNuke skins.