Issue 18 - DotNetNuke and Blogging
February 2007
Welcome to the eighteenth of DNN Creative Magazine.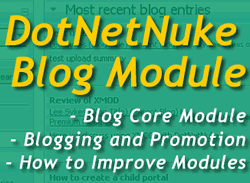 In this issue we explore in detail the core DotNetNuke blog module. We demonstrate the various configuration options available to you, as well as provide real world examples. Supporting the DotNetNuke blog module tutorial are articles covering: What is blogging, blog content and how to promote your blog.

Finally, we demonstrate how to improve a DotNetNuke module by examining the blog module and making changes to the core code. This will enable you to add additional functionality to the core modules.
This issue comes complete with 8 videos.
DotNetNuke Blog Module
(8 videos - 82min)


Blogging - What is a blog?
Blog Promotion - 'Blog and Ping' what is it anyway?
How to improve a DotNetNuke module (The Blog module)
View issue 18 to download all of the videos in one zip file
dotnetnuke