InteractiveWebs DotNetNuke Advanced Login Module - 5 Videos
In this video tutorial we demonstrate how to use the Advanced Login module by InteractiveWebs.

The Advanced Login module allows you to customize the look and feel over the login and user registration process. The module features a Facebook connector, jQuery Popup, Skin Login and Region data import tool.

A user can login with either their email address or username, it is possible to redirect a user when they login based on their security role or user profile or to a custom URL. You can control permit or deny access to the website by IP address and you can also redirect a user based on the IP address. A user can also recover their forgotten password details with either a username or email address.

Custom email messages can be created for failure and password recovery. Plus a simple URL can be sent in an email for the user to click and verify their user account details, making it a much simpler process than the default verification code method with DotNetNuke.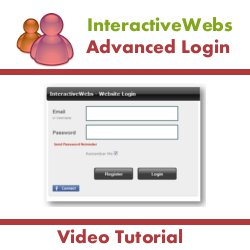 The video contains:
Video 1 - How to Install Advanced Login and Facebook Authentication

Video 2 - Configuring the Advanced Login Module
Video 3 - Enabling Popup Login, Email Templates, Configuring Facebook Login
Video 4 - Configuring the Advanced Login Module as the Default Login in DotNetNuke
Video 5 - Popup Login for Login Skin Tokens, Look and Feel, Redirection

InteractiveWebs DotNetNuke Advanced Login Module- 5 Videos
Labels: Advanced, dotnetnuke, InteractiveWebs, Login, tutorial, video